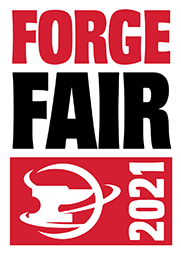 Visit us at the Forge Fair, North America's largest forging industry event. The three-day Detroit-based show takes place at the TCF Center and will feature presentations and product demonstrations highlighting technological advancements within the industry.
Attendees can enjoy complimentary meals and have the opportunity to network with industry professionals and hear a variety of discussions held throughout the three-day event.
The event features a Women in Forging panel on October 28th and includes female leaders from the industry. Moderated by Ashleigh Waters of Onex, the panel plans to discuss women in the industry, labor development, and work/life balance.
Dr. Chris Kuehl of Armada Corporate Intelligence will deliver the event's keynote speech. An industry professional of 18 years, Dr. Kuehl will deliver a can't miss address that will bring important insight and innovation to the fair.
A full list of presentations and discussions is available on Forge Fair website. We look forward to seeing you there.
Forge Fair is North America's largest event dedicated exclusively to the forging industry. Approximately 2,000 forging professionals from across the globe come to Forge Fair to learn about new products, make purchasing decisions and network with each other. No other industry event offers suppliers and forgers the platform to connect with more qualified potential customers.